Charcuterie
A delicious charcuterie board is a must for any gathering or celebration! Let P² Bar Events take care of everything--from preparing and plating to serving and making sure everyone's bellies are full--so you don't have to worry about a thing.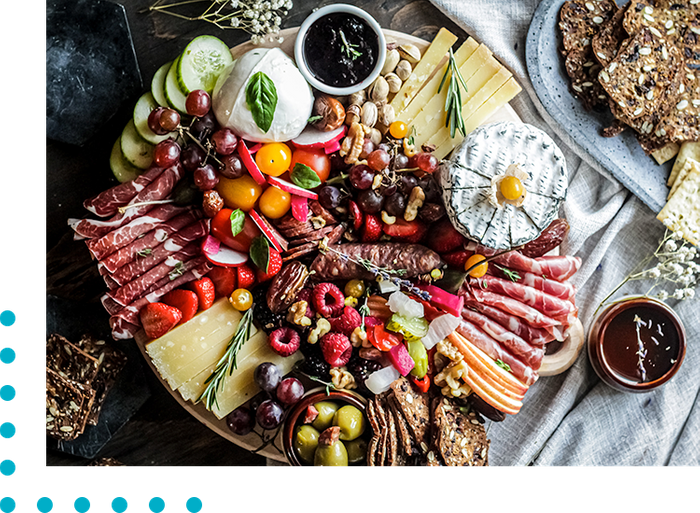 SHAR - KOO - TUH - REE
Charcuterie is a unique culinary expression featuring the creation of an appetizing assortment of smoked meats, cheeses, vegetables, crackers, fruits and small bites of food, ordered nicely on a flat wooden serving platter, known as a 'Charcuterie Board'. Derived from the French word for "cured meats," Charcuterie dates back to the 15th century.
A TIMELESS TASTE

Experience a blast from the past by indulging in a charcuterie board! These tasty spreads originated in 15th-century France and were a favorite of the noble class due to the long-lasting durability of cured meats. Today, charcuterie boards still offer an array of delectable treats, from fresh fruits and veggies to smoked meats and sausages - so why not try one for yourself and indulge in a little bit of history?

OUR CHARCUTERIE SERVICES

P² Bar Events is convinced that charcuterie boards aren't just a nice touch - they're essential for any gathering that wants to bring the class! So serve up a stunner of a spread at your next get-together, with all the meats, cheeses, fruits, and veggies your guests could dream of!